Bacova Mailbox Posts
Add a metal or vinyl mailbox post.

Since Bacova Mailboxes are decorative fiberglass panels over black mailboxes, the best color mailbox post should also be black. Our metal posts are made from aluminum and painted black. They are a perfect match to the small or medium size Bacova Mailboxes.

Our vinyl posts are decorative designs with models that include a newspaper holder, flowerbox, or both. Vinyl posts are sleeves that fit over standard 4x4 wood posts (not included, but available at any lumber yard or home center).

If you are buying the large size Bacova Mailbox, the only option we offer is the Vinyl Liberty Post. That size mailbox is so large, it is just out of proprtion with any standard post. You can also opt to purchase a 6x6 pressure treated wood post locally. The large size mailbox looks just fine sitting on one of those.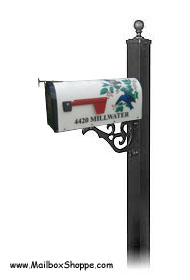 Black Decorative Aluminum Post
pictured with small mailbox
$159.00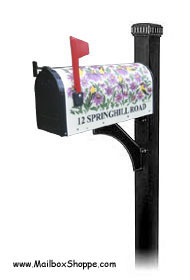 Black Designer Aluminum Post
pictured with medium mailbox
$159.00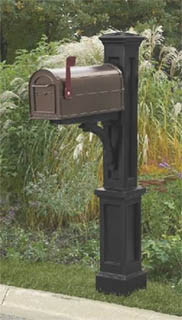 Black Vinyl Newport Post :
Sized for Small - Medium Mailbox
$129.00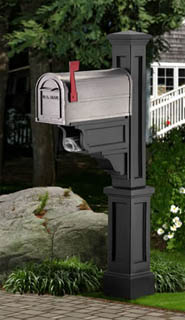 Black Vinyl Dover Post
Sized for Small - Medium Mailbox
$159.00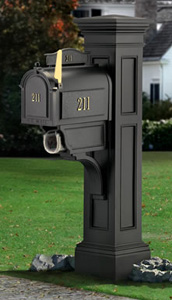 Black Vinyl Liberty Post
Sized for Large Mailbox only
$199.00