| Order Your Designer Copper Mailbox - $189.00 | |
| --- | --- |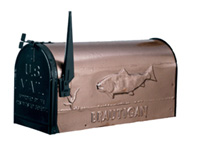 Designer Copper Mailbox:
8" wide x 10" tall x 21" deep
You have reached this page because you are ready to order one of our Designer Copper Mailboxes.

Choose size, choose the design and fill in the personalizaton. The design and personalization is on both sides. We also sell the very nice black cast aluminum Designer Mailbox Post pictured below. It really compliments the mailbox and offers a very strong alternative to rotting wood posts. Add the mailbox post or not, then click "Add to Cart" button.

These mailboxes are custom made. No changes, returns, or exchanges. Allow 4-6 weeks for delivery.