Imperial Mailboxes

Twin Mailbox and Post - $569.00

> Aluminum Casting (no rust)

> Direct burial (just dig a hole)

> Proven long lasting finishes

> Available black, white, almond, grey, bronze, and dark green. Antique verde available for $569.00

> Interior dimensions of the mailbox are 7" wide x 8" high x 19" deep.

> Post #6 available for $589.00

> 2" brass numbers ($3.00 each)

> Sheet metal newspaper holders ($49.00 / each)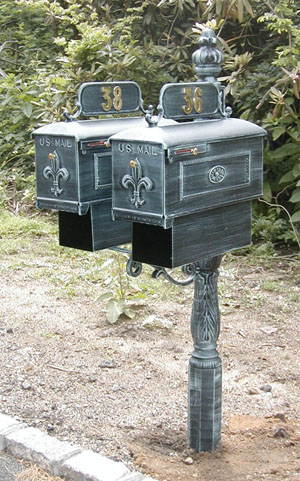 Twin Imperial set including the optional newspaper holders.

Order Info:
Any Imperial Mailbox can fit any Imperial Post. On other pages, we have put together some of the most popular Imperial Mailbox combos, but on this page you can put together your own combo.

Simply choose a post, a mailbox, a color, and consider adding brass house numbers or newspaper holders.
Prices:

$569.00 with Post 1, 2, 3, or 5
$589.00 with Post 6
Shipping to the 48 States just $19.99