Local Mailbox Installations
We install mailboxes and posts in most of Suffolk and Nassau County on Long Island in New York.

Sorry, but we do not install wall mount mailboxes.

We have installed 1000's of mailboxes since 1993. You can add installation to any mailbox and post we sell on this site. The prices apply only to direct burial mailbox posts. Pedestal mailboxes need a concrete platform and cost an additional $25.00.


Where we install?

Your price is based on your location. The towns where we install are listed in the drop down menu above under "Where are we installing?"

If your town is not listed, or if you have a question, you will need to call us at 1-800-330-3309.
Mailbox Installation includes:
Mailbox and Post
House Numbers on mailbox
Assembly & delivery
Eliminating a basic existing post
*If we cannot lift out your exisiting mailbox post, then it needs to be cut at ground level and you will be charged an additional $20.00. Otherwise, have your exisiting mailbox eliminated before we arrive. All we need is a clear place to dig.
Not Included:
Taking away old mailbox and post
Dismantling existing mailboxes more involved than a standard mailbox post *
Cutting away existing concreted mailbox post *
Excavating old concrete footings
Installing a mailbox in areas that are obstructed by concrete, trees, root systems, or other unusual situations
8.625% local sales tax
Initial Deposit:

Once you place an order, you will be charged a deposit.

This allows us to order the mailbox and post. Once it gets delivered to us, we'll contact you about making an installation appointment. It is not a required for you to be home if we are installing down at the street. That's your decision.

The balance of payment is due once the job is done and you are completely satisfied. We will reconfirm the order via email before charging the deposit.

The two mailbox posts at right are available with or without installation. The price shown does not include a mailbox or delivery/installation.

These mailbox posts are made from cedar, then primed white. The base sleeve on Post 2 is made from Azek.
Just like the Clearance posts above, give us a call if you are interested. We can work out an installation package for you.

1-800-330-3309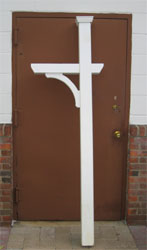 Wood Post 1 - $49.00
Fits almost any mailbox.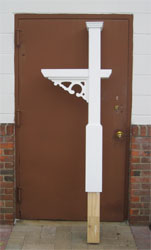 Wood Post 2 - $99.00
Fits almost any mailbox.