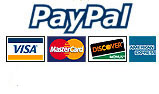 MB901 Heavy Duty Locking Mailbox - $219.00


(includes locking insert)





We have taken a popular vandal-resistant mailbox and added a custom-made lockbox to create what we call the "Heavybuilt - Lockbox". The mailbox is constructed from 1/8" steel plate with a heavy duty stainless steel hinge, and recessed door. Baseball bat weilding vandals will get quite a shock when they try to whack this mailbox. We have added a lockbox to combat mail-theft. Add a matching basic aluminum post for the most rock-solid, vandal-resistant set-up we sell. The mailbox is available in either black, white, burgundy, bronze or green. The post is available in black, bronze or white. Personalize your mailbox with vinyl lettering available in black, white, silver, blue, red, or gold. The mailbox measures 8" wide x 10" high x 21" deep. The lockbox measures 7.5" wide x 6" high x 19.5" deep. The lockbox slot measures 6.25" wide x 1.5" high. The weight of the mailbox/lockbox is 36lbs, so you better have a strong post.

Vinyl Address Prices

:

Layout #1: $10.00

Layout #2: $20.00

Layout #3: $25.00

Price includes vinyl for both sides of the mailbox.

Vinyl rated for 7 year exterior use, but lasts longer.

Basic Aluminum Post - $99.00

Available black, white, or green.

Less Parts=Less Parts to Break.

Has four pre-drilled holes in the top of post that match the four holes in the mailbox floor. Simply bolt them together for a mailbox / post connection I have never seen broken.

Select Aluminum Post - $199.00

Pictured with Belmont Mailbox.

Fits the Heavybuilt perfectly.