SPK 600 Aluminum Mailbox Post - $219.00
(mailbox not included)

This cast aluminum mailbox post is available in 9 colors. This post can be surface mounted through the holes in the post base or it can be buried directly into the ground with a ground post extension that simply bolts to the bottom of the post (included).

Dimensions: 62" tall + 18" ground post that bolts to the main post for direct burial installation. There is a 7.5" round base with 4 holes for bolt-down installations.
This cast aluminum mailbox post comes in the same nine colors that match the Floral, Hummingbird, Boulevard, Classic, Savannah, and Town House post mount mailboxes.
Or... you can purchase the post alone, since it can fit almost any mailbox.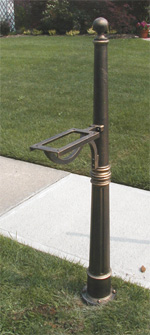 600 Post (no mailbox)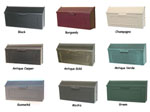 Click to See Color Chart



This page is only to order the Special Lite SPK 600 mailbox post.
It does not include a mailbox.
The mailboxes that come from the same factory in matching colors are available by clicking the links at left.