Dover Vinyl Mailbox Post

$159.00



Simple yet strong, this mailbox post serves as a perfect and warm invitation to retrieve your mail at the end of the drive.
Made from: Polyethylene
Size: 25.5" W x 55.5" H
Available Color: White, Clay, Granite and Black
Warranty: 15 years
Shipment Size: 2 boxes
Weight: 15 lbs.
Mounting posts required: 4 x 4 (6' long)
Ships from factory warehouse
Delivery: 2 weeks


We recommend a medium mailbox (approx. 7.5"width x 10"height x 20" length)

Weight suggestion is 4lbs to 12lbs

Heavier boxes require added support by securing one or two lag bolts through the back of the mailbox directly into the post

Mail boxes, mounting kits, or 4x4 post inserts are not included.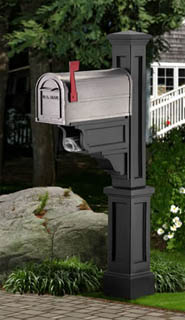 Black Dover
Vinyl Mailbox Post

White Dover
Vinyl Mailbox Post


Granite Dover
Vinyl Mailbox Post