Westbrook Plus
Vinyl Mailbox Post

$149.00




Our Westbrook Plus Mail Post offers you more than just a functional place to pick up your mail. Their exquisite detailing creates a dramatic difference to any home.
Made from: Polyethylene
Size: 40.5" W x 56" H
Available Color: White, Clay, Granite and Black
Warranty: 15 years
Shipment Size: 3 boxes
Weight: 19 lbs.
Mounting posts required: 4 x 4 (6' long)
Ships from factory warehouse
Delivery: 2 weeks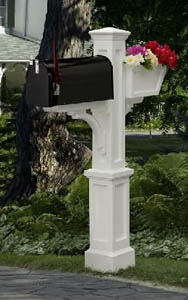 White Westbrook Plus
Vinyl Mailbox Post


We recommend a small or medium mailbox (approx. 6.5"width x 9"height x 19" length)

Weight suggestion is 4lbs to 8lbs

Heavier boxes require added support by securing one or two lag bolts through the back of the mailbox directly into the post

Mail boxes, mounting kits, or 4x4 post inserts are not included with this Mail Box Post.
Black Westbrook Plus
Vinyl Mailbox Post

Clay Westbrook Plus
Vinyl Mailbox Post


Granite Westbrook Plus
Vinyl Mailbox Post