Whitehall Mailbox -
Quad Package

$1228.50 includes delivery

Includes the quad mailbox post and four Whitehall Mailboxes. Add optional signs and newspaper holders.
Quad Whitehall Mailbox Package
shown at right with both the optional custom door plaques and newspaper holders.

Includes factory direct UPS shipping. Delivery is usually 2-3 weeks depending on whether your order includes custom signs which take some time to make.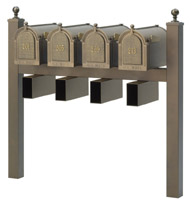 Whitehall Quad Mailbox with
optional newspaper holders