Pedestal Mailboxes
A pedestal mailbox is any mailbox that gets mounted to a flat surface (as opposed to being dug into a hole). The flat mounting surface is usually concrete, but it can also be a brick landing or a wood porch.

All of these mailboxes are made from cast aluminum and are available in a variety of colors.

Click any picture for more details including dimensions and prices.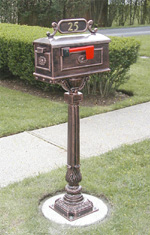 Traditional # 5