This mailbox is made from solid cast aluminum. It is available with a powder coat painted in 11 colors: : antique copper, antique gold, antique silver, antique verde green, black, burgundy, champagne, green, gunmetal, mocha, and white. It has both a front and rear door. It measures 20"L x 8"W x 10"H. .
Number Sign: $49.00 + $3.00 for each 2" tall cast brass number.

Available Colors: We do not have photos of every mailbox in every available color. Instead we have a color chart that shows the colors available for this mailbox.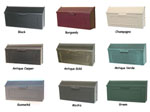 Click to See Color Chart