This is a very solid larger size mailbox. It is constructed from 1/8" steel plate with a recessed door and heavy duty stainless steel door hinge. Baseball bat swinging vandals will get quite a shock when they try to whack this mailbox.
It is made from very sturdy galvanized steel plate with a powder-coated finish for years of maintenance free use. Has four pre-drilled holes in the floor to allow easy attachment to any flat surface. Mailbox available in either black, burgundy, white, bronze, or green. Vinyl-cut lettering available black, white, silver, blue, red, or gold.
Dimensions: 8" w x 10" h x 21" d
Weight: 28 lbs
Price includes vinyl for both sides of the mailbox.
Vinyl rated for 7 year exterior use, but lasts longer.

Layout #1 house numbers usually mailed separately.

Vinyl Address Prices:

Layout #1: $10.00
Layout #2: $20.00
Layout #3: $25.00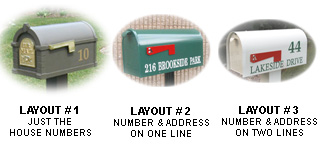 The number is positioned towards

the rear on the flag side.

The number is positioned in

the center on the non-flag side.