You have reached this page because you own a Whitehall Mailbox, like the one pictured below, and you wish to add some of the matching Whitehall Signs to that mailbox.

NO MAILBOX INCLUDED. You are only here to order signs.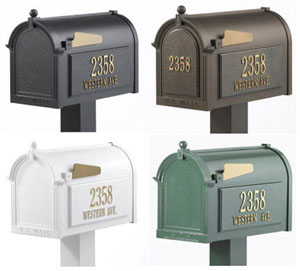 Whitehall Mailbox Sign Options:
Side Panel Signs: $59.00 per side
Each side panel can have 1 or 2 lines of personalization. Usually the 1-line signs would be just a house numbers. A 2-line sign would probably have the street address below the house number.


Front Door plaque: $49.00
You can add up to 5 numbers on the custom front door plaque.


Mailbox Topper: $69.00
You can add up to 17 characters across the mailbox topper.
All personalization is done in gold.
Allow 3 weeks for delivery.

UPS Ground Delivery included