Cast Aluminum Ladder Rest Signs
We sell three different style ladder rest signs.

The "through the pole" style at right will usually substitute for the exiting light pole rod. It includes large vinyl cut numbers.

The two styles below are custom cast aluminum available with either 1 or 2 lines of personalization.

The hanging style can be sold with or without the post "arm".

The "around a rod" style will secure itself with brackets that tighten around your light pole rod.

Click any picture for more info.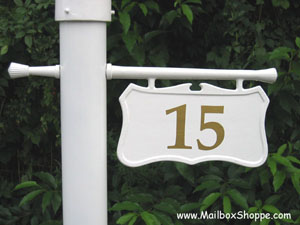 1 - line "Through the Pole" style signs