Gaines Fleur de Lis Wall Mount Mailbox - $209.00
Take a look at the world's finest wall mount mailbox. The body is die cast from the highest grade A-360 aluminum.

All boxes are painted with a start-of-the-art -five stage powder-coat paint process for beauty and durability. The mailbox door will stay in an upright position if desired and softly closes on pads for easy quiet operation.

The eagle accent plaque is either satin nickel, antique bronze, polished brass, or painted to match the color of mailbox.

The Fleur de Lis Wall Mount Mailbox comes complete with mounting hardware, installation instructions and a mounting template. This mailbox was designed to hold large magazines, catalogs, and bundles of mail.

Measures 14" x 14" x 7" deep.

You have the option of adding a locking insert to help discourage mail theft (+$39.00).
MOVE DOWN for locking insert pictures and descriptions.

48 States Shipping: $9.99. Allow 1 weeks for delivery.
Canada Shipping: $44.99. Allow 2 weeks for delivery.
Click this link to see a full screen photo: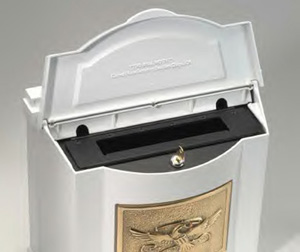 The mail delivery slot is approximately 8" wide x 1.25" high
Locking Mailbox Insert

The Fleur de Lis Wall Mount Lockbox adds security to this very popular, high quality mailbox. The lockbox is aluminum, painted black, and includes two keys.

Although no mailbox lockbox can provide 100% security, they do make excellent deterrents to mail theft.

If you add the lockbox, the factory will install it for you. If you purchase the lockbox at a later date, they install as shown by the pictures below.