Sunrise Mailbox - $78.99
Includes UPS Ground delivery to the 48 States
This is our best priced cast aluminum wall mount mailbox. It even includes matching cast magazine racks (attach them or not).

Available in solid colors black, white, champagne, green, mocha, oil rubbed bronze, and gunmetal. Also available in accent colors antique copper, antique silver, antique verde, and gold rubbed bronze.

Measures: 16"w x 8"h x 3 1/2" d.
These mailboxes are now available customized with 3.25" tall cast satin brass or satin nickel numbers. The mailbox will be delivered with the numbers drilled and screwed to the front of the mailbox. (add $10.00 / number. Custom mailboxes are not returnable).

The front wall of the mailbox is drilled out and our numbers get screwed in place from behind leaving no ugly screwheads on the face of the numbers. Nice!

Satin Brass Numbers: Due to the nature of brass, there may be some slight shade variation to each number. Once exposed to the sun and outside elements, they will darken slightly over time to a consistent satin color.

Satin Nickel Numbers: These are brass numbers coated with nickel. The nickel is very weather resistent. Again, a slight variation in the surface may exist. Nickel is not affected by outdoor exposure.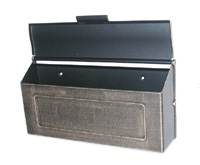 Lid Up. Mailbox attached to
wall using just two screws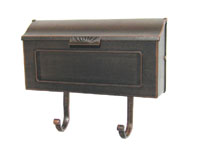 Magazine Racks Included
(Attach them or not)