Discount Whitehall Wall Mailbox: $..... add to cart
Custom number sign: $...... add to cart
Whitehall Mailbox prices are MAP (Minimum Advertised Price). Dealers cannot advertise prices below the minimums established by Whitehall. The only way to see prices is to add the items you want into a shopping cart. The discount price includes FedEx Ground shipping.
Get a mailbox and sign together - a perfect match ! This high quality cast aluminum mailbox is available black, white, or bronze.

Optional cast aluminum house number / address plaque can be added for an additional $39.00. The signs come with 1 or two lines. Gold lettering is available for the black, bronze, and white units. Silver lettering is also available for the black unit.

If you purchase the separate address plaque, the numbers will be 3" tall. If you have the street or family name below, those characters will be 1.25" tall

The custom address sign is delivered unattached to the mailbox. The installer drills two small holes at clearly designated locations where screws (included) will hold the sign to the mailbox.

All Whitehall Wall Mailboxes are delivered with a locking lid and two keys as shown below. Also included will be a tool and replacement screws with instructions to remove the locking lid feature.
This is a very high quality, larger size mailbox that measures approximately 15"w x 15"h x 7" deep.

Delivery is usually 1-2 weeks for mailboxes only.
Delivery is usually 3 weeks for order that include the mailbox with the custom address sign..

If you have the mailbox and only need to order the custom address sign... click here!
.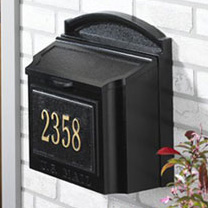 Black Whitehall Wall Mount Mailbox